1-Day Tour Itinerary from Mysore One-Day Trip
(tour starts and ends at Mysore)
Touring Mysore
Location: Mysore City
The city of palaces, Mysore, is an important destination in the Indian subcontinent that signifies ancient reigns. This historical place is known for its popular royal heritage, yoga, sandalwood, and elaborate architecture. Rich in culture, this place is located at the foothills of Chamundi Hills. 
Also called Mysuru, the city of Mysore is located in South-western Karnataka and was the land of great kings and Nawabs from 1399 to 1947. It is still regarded as the 'Cultural Capital of Karnataka'.
There are so many notable places in Mysore that one might take a good amount of 7 days to tour the entire city. But if planned properly, a one-day trip to Mysore is possible. This post will talk about 15 best places to visit when you are in Mysuru and what would be the expenditure to visit these places. Happy reading!
Notable Places to Visit in Mysore
Are you looking for places to visit in Mysore in one day? Let us make a list of all the notable places that you can see on a one-day trip to Mysore easily.
01:

 Chamundi Hills (Chamundi Betta)

Chamundi Hills:
Mysore itself is situated at the foot of the Chamundi Hills, and the Chamundeshwari Temple is located at the peak of the hills. On a 
one-day trip to Mysore, 
Chamundi Hills is one of the most notable locations that tourists would love to visit because the entire city is visible from the top of the hills.
02:

Statue of Mahishasura

Mysore Zoo:
Located close to the Mysore Palace, this zoo is home to more than 1320 strictly conserved animals.
A lunch break is mandatory after traveling this much in a one-day trip to Mysore.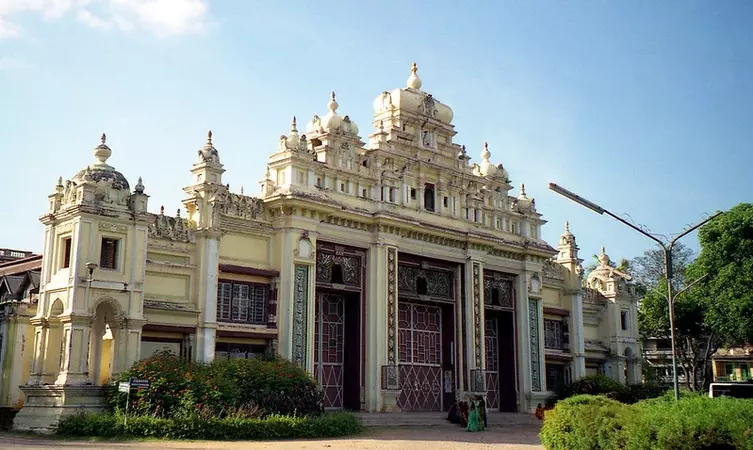 Jaganmohan Palace: This was one of the seven palaces belonging to the Wodeyar kings but is now used as a function banquet and art gallery.
11: St. Philomena's Church
12: Srirangapatna Sightseeing
13: Tipu Sultan's Summer Palace
15: Brindavan Gardens KRS
Expenditure of Mysore One Day Tour Package
Do you think Mysore's one-day trip will be expensive and out of your budget? No, it won't because a one-day trip to Mysore is pocket-friendly. You can book a private car for 04 people, and you will be charged approximately ₹-1600/-. Touring Mysore will thus be a mesmerizing experience on a pocket-friendly budget. 
If you are looking for places specifically for one day tour, Mysore will prove to be quite a memorable experience. It offers a diverse range of sights which are splendid, primarily which is Mysore palace
One Day Trip From Mysore – By Car
Tourist Places Near Mysore Within 150 Kms
• Bandipur Forest
• Nagarhole National Park
• Shivanasamudra Waterfalls
• Gommateshwara Temple – Shravanabelagola 
• Somnathpur historical places
•  Panchalinga Darshan in Talakadu
• Golden Tibetan Temple 
• Mudumalai Wildlife Sanctuary
• Masinagudi Tiger Forest
• Melukote Temple
• Biligiri Ranga Hills
• Chunchanakatte Waterfalls
• Kokkare Bellur Bird Sanctuary
• Adichunchanagiri Temple